We hope you enjoy these top news stories about TFAS activities, alumni and events this week. Please visit us on social media for additional up-to-the-moment TFAS news and information and sign up for our newsletter to receive weekly updates.
---
TFAS Honors Air Force Academy Graduates
As the Thunderbirds swooped overhead Falcon Stadium in Colorado Springs, 10 TFAS alumni tossed their hats high in the air and graduated alongside the Air Force Academy Graduation Class of 2019. TFAS was proud to honor the graduates and welcome incoming TFAS cadets at the graduation ceremony and Annual Cadet Leadership Reception on May 31.
Following the graduation ceremony, two TFAS alumni academy graduates, 2nd Lt. Cayden Sparks '18 and 2nd Lt. Diana Myers '18, shared their TFAS testimonies at the reception held at the superintendent's residence.
"It was truly an enriching experience for me because TFAS takes a well-developed curriculum and combines it with a student body that is made up of people from all around the world," Sparks said. "Not only did we have amazing academic conversations, but the cultural lessons that I walked away with were truly unforgettable."
Since 1985, more than 200 USAFA cadets have attended a TFAS D.C. Summer or International program thanks to the generous support of the Air Force Academy Foundation and TFAS Vice Chairman International William J. Hybl.
Read more about the partnership and TFAS cadets here.
---
2019 Capitol Hill Lecture Series Dates Announced
Fox News Senior Judicial Analyst Judge Andrew Napolitano will kick off the 2019 Capitol Hill Lecture Series on Thursday, June 13, with a discussion titled "Do We Still Have a Constitution?" During the lecture, Napolitano will share exciting anecdotes and insights from his nearly 20 years of reporting on government misconduct and waste.
Made possible through the generous support of the Einhorn Family Foundation, the Capitol Hill Lecture Series is hosted by TFAS and The Office of Senator Rand Paul and is open to all Washington, D.C., interns.
The program attracts 1,500 students each year, putting young people face-to-face with prominent leaders who are advancing the cause for freedom. To see our full line up of 2019 speakers and learn more about the series, please visit TFAS.org/news and TFAS.org/CHLS.
---
Alumna Danyale Kellogg Receives National Award for TFAS Internship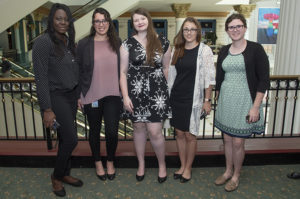 TFAS alumna Danyale Kellogg '18, '19 received the Cooperative Education Internship Association's (CEIA) 2019 Internship Student Achievement Award. Out of 630 member colleges and universities, the cooperative honored Kellogg, a Hatton W. Sumners Scholar, with the prestigious award for her TFAS internship experience and undergraduate accolades.
Read more about Kellogg's achievements, see the impact of our programs in Washington and Santiago, and find out what's next for her TFAS Journey at TFAS.org/Kellogg.
---
Video of the Week
2nd Lt. Diana Myers '18 thanks TFAS supporters for providing her the experience to live, learn and intern in Washington, D.C.
---
Quick Links
Mitch Garrett '03 was named vice president of business development for Benchmark.
---
Reason Magazine featured 10 U.S. colleges where intellectual diversity is thriving, including TFAS Trustee Emeritus Mitch Daniels' Purdue University.
---
Bryce Mitchell '14 was promoted to Captain in the United States Air Force. Captain Mitchell participated in the 2014 international affairs program track of the TFAS D.C. Summer Programs. Stationed in South Korea, Mitchell is an avid adventure mountain climber and a member of the oldest Korean Studies group in South Korea.
---
Ayham Kamel '03, '04, '04 discussed tensions in the Gulf on CNBC International.
---
TFAS professor Chris Coyne received a Bronze Award from Independent Publisher in the Current Events I (Political/Economic/Foreign Affairs) category for his book, "Tyranny Comes Home: The Domestic Fate of U.S. Militarism." 
---
TFAS Director of International and Continuing Education Programs Brenda Hafera explores 2020 presidential candidates' outlook in American Mind.
---
Mark Levin's '76 new book, "Unfreedom of the Press" was named an Amazon best seller.
---
Avery Phillips '17
is the new staff assistant for Rep. Carol Miller in Washington, D.C. TFAS Vice President of Alumni Programs
Michelle Le '95, '96
met Phillips for lunch to welcome her to the D.C. TFAS Alumni family!