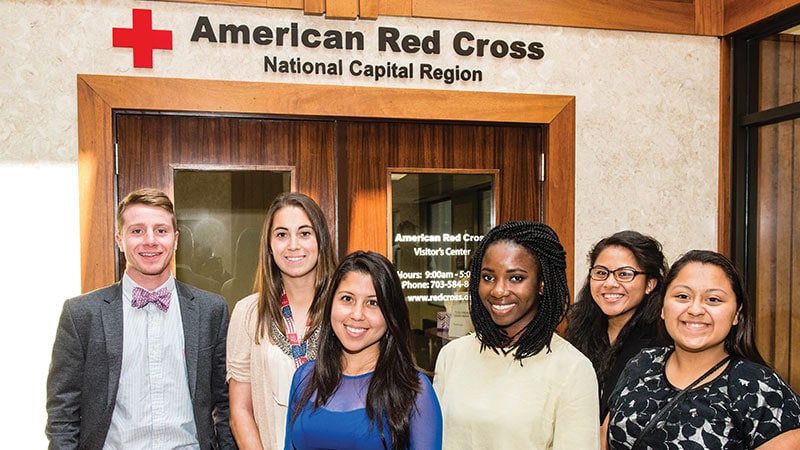 The Service + Citizenship Academy is a supplemental program of the TFAS D.C. Summer Programs experience, designed for student leaders who are passionate about enacting positive change in their communities. The academy is open to TFAS students who are interested in volunteering or exploring a career in the nonprofit sector and are placed in a nonprofit internship through one of our summer program tracks.
TFAS allowed me to explore the nonprofit sector in a way I never looked at it before; working and living in the nonprofit capital of the world greatly shaped my future career." – Kenney Tran '17
Academy participants have a direct impact on the Washington, D.C. community by engaging in several service projects throughout the summer. Participants attend an exclusive briefing and service project led by the founder of a local organization and receive priority registration for Service Saturday, a unique event where more than 100 students volunteer with numerous service-based organizations in the Washington, DC area.
Through exclusive programming, students engage in thought-provoking discussions that strengthen their understanding of how to support local and global communities and inspire a lifelong commitment to community and civic engagement. These events enhance students' knowledge on critical issues facing the service community, as well as providing the chance to learn directly from community leaders on how to be an effective leader in the future. Service + Citizenship Academy Events include:
Tocqueville's Democracy in America: Dive into the unique history of philanthropy in America with Georgetown professor Richard Boyd.
The Economics of Foreign Aid: Learn about the unintended consequences of foreign aid featuring TFAS Academic Director Dr. Anne Bradley.
Executive Director's Panel: Attend a roundtable luncheon with leaders of Washington, D.C. community-based and national nonprofit organizations.
Students who attend all of the program events receive special recognition at the closing ceremony.