The global outbreak of the novel coronavirus has citizens across the nation wondering – what will be the lasting economic impact? Policymakers in Washington have spent trillions of dollars on economic stimulus packages to relieve individuals and small businesses from financial strife. But, how has this policy response affected the U.S. economy?
To answer these questions and meet the growing demand to help teachers and professors look at the crisis through an economic lens, TFAS is hosting webinar discussions to tackle complex ideas through its high school programming division, the Foundation for Teaching Economics (FTE).
In the first webinar of the series, Chair of the Clemson Department of Economics, Dr. Scott L. Baier, shared  "COVID-19 Economic Implications and Policy Response" by exploring the long-term economic impact of the coronavirus crisis and which specific industries will be affected most. 
FTE will be hosting another webinar, "This Is Your Brain On Numbers: Data, Statistics and COVID-19" with Dr. Russell Roberts on Wednesday, May 27 at 6 p.m. ET. Learn more and register here.
EXPLORING ECONOMIC IMPLICATIONS
When the World Health Organization (WHO) officially identified the new coronavirus as "COVID-19" on Feb. 11, experts were still unsure of how the disease would affect the global economy. Baier explained to the more than 250 webinar attendees that the outbreak was expected to only disrupt manufacturing supply chains if contained within certain countries. However, between early February and late March it became apparent that the economic impact of the virus would be felt globally when the Dow Jones Industrial Average dropped on Feb. 24 due to public health concerns. This 1,000 point plunge was its worst drop in two years. The Dow Jones dropped again on March 12 when the NBA, MLB and NCAA announced the postponement of this season's sporting events, indicating that daily life and the economy would inevitably be affected. 
"This sent a signal to every market participant that these large events that we have become accustomed to going to are no longer going to occur," Baier explained. "Our lives began to change and therefore the economy began to change." 
As discussion of stay-at-home orders and social distancing guidelines arose, economists analyzed the tradeoffs between flattening the disease curve and halting economic activity. Dr. Baier explained that though a drop in demand occurred prior to businesses being closed, the long-term consequence of the economic shutdown would ultimately affect the most vulnerable industries, including entertainment, dining and recreation. 
Baier also explained that a cost-benefit analysis must be performed in order to determine a tradeoff. If there were no containment policies, there would likely be slightly reduced economic activity, but far more coronavirus-related deaths. In contrast, with stringent containment policies, economic activity would be reduced dramatically and there would be fewer coronavirus-related deaths. 
"The effect of social distancing is likely to lead to a much deeper recession and it could lead to a more prolonged recession," Baier said. "What we can see now here is that there is a real tradeoff in that by practicing social distancing, we are saving lives but also by practicing social distancing, the economy is going to go into a much deeper recession than it would have otherwise." 
LOOKING FORWARD
Many are also wondering, what will be the economic impact of a second outbreak? Baier believes that though there is the possibility of a second outbreak before a vaccine is developed and mass-distributed, businesses and households will likely be more prepared to respond than they were before.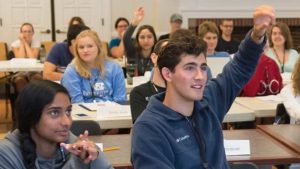 "I think everybody now is going to be a little bit more prepared in terms of business continuity plans and household continuity plans," Baier explained. "We do worry about it spiking back up, but I think hopefully we've learned some important lessons just as we've learned coming out of financial crises [in the past]."
Following the webinar, more than 95% of participating teachers said that the program material improved their ability to teach students about the current COVID-19 disaster. Additionally, 97% said they would recommend Baier's presentation to a friend or colleague. 
"He does an outstanding job of taking complex economic concepts and simplifying them to be easily understood," said one participant. "He is a sound expert and did an impressive job." 
TFAS thanks Dr. Scott Baier for sharing his expert insights. FTE will be hosting another webinar, "This Is Your Brain On Numbers: Data, Statistics and COVID-19" with Dr. Russell Roberts on Wednesday, May 27 at 6 p.m. ET. Learn more and register here. For more information on the Foundation for Teaching Economics' summer programs and upcoming webinars, visit www.FTE.org.