We hope you enjoy these top news stories about TFAS activities, alumni and events this week. Please visit us on social media for additional up-to-the-moment TFAS news and information and sign up for our newsletter to receive weekly updates.
President Ream: Understanding Economics is Key to Good Citizenship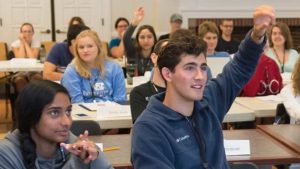 TFAS President Roger Ream '76 writes in Education Post about why economics is a vital, though often overlooked, discipline of civic education, and how TFAS high school programs are teaching economics in ways that students find relevant, and even exciting.
Ream says that economic literacy, meaning the understanding of basic economic principles and the ability to apply this understanding to everyday life decisions, must also be considered a key aspect of well-rounded civic education. He writes, "After all a free-market economic system is a key foundation of American life and the source of this country's prosperity. On a whole host of issues – including taxes, government spending, entitlement programs and the minimum wage – students must understand economic concepts in order to be informed participants in the political process."
When excellent professional development meets the passion and creativity of teachers, I'm confident we can rewire our education system to prioritize economic literacy as part of civic education and set our children and grandchildren on the path of future leadership." – TFAS President Roger Ream
You can read the full piece – including a shout out to FTE HipHoponomics teacher M.C. Caskey – in Education Post.
---
Inaugural TFAS Service + Citizenship Academy Teaches Important Role of Philanthropy in a Free Society
While some may say community values are fading in today's digitally-consumed and divided society, TFAS is continuing its commitment to ensuring each new generation learns and upholds a sense of civic duty and responsibility. This summer, TFAS offered the inaugural Service + Citizenship Academy to students participating in our D.C. Summer Programs. The Academy selected 30 outstanding leaders with a strong interest and demonstrated aptitude for service leadership to participate in exclusive philanthropic programming, guest lectures and immersive service projects.
Academy student Jenny Hudson '19 said a behavorial economics lesson by TFAS professor Dr. Daniel Houser helped her understand why humans experience poverty and the other issues that nonprofits are created to address.
The lecture was good in framing human imperfection and why there's a need for nonprofit and individual solutions, rather than government intervention, to help fill the gaps." – Jenny Hudson '19
At the Academy's closing ceremony, TFAS Executive Vice President Steve Slattery shared how the program is a living legacy of late TFAS Co-Founder and President David R. Jones. "Throughout his life, he always brought people together and inspired them to build communities and lasting institutions," Slattery said. "He believed it was citizens, not government, who could best solve their own problems."
To be eligible for the Academy, students had to be enrolled in TFAS D.C. Summer Programs and interning with a nonprofit organization.
To read student testimonies and learn more about the program, please visit TFAS.org/SCA19.
---
TFAS Staff and Alumni Report from Hong Kong
As demonstrations in Hong Kong continue, TFAS alumni, faculty and staff are offering their firsthand accounts of the battle for freedom and democracy.
Our Hong Kong Program Director Brenda Hafera was featured in the National Interest last week, sharing what she saw while spending a month in the city this summer. She writes, "I witnessed something inspirational, disquieting, and foreboding. I saw people fighting for the character of their country."
Dr. Nikolai Wenzel, who teaches political economy in our Hong Kong program, detailed his experience in Law & Liberty, sharing his love for the city and his concern that its "light of freedom risks being snuffed out." Novak Fellow Jillian Kay Melchior, Novak '11 has been covering the protests at length for The Wall Street Journal, reporting from the pro-democracy protests and the risks demonstrators face.
TFAS hosted its TFAS Hong Kong program in the city this summer where students witnessed firsthand the value and human desire for freedom and democracy as they studied the principles of free societies. You can read about their TFAS experience at TFAS.org/HongKong19.
---
Quick Links
George and Sally Mayer Fellow for Economic Education and TFAS Academic Director, Dr. Anne Bradley, discusses the effect of cronyism on the market place and how to combat it during the Acton Institute's Acton Line podcast.
---
Kari Travis '12, Novak '18, reports on the impact of the U.S. – China "trade dance" on rural farmers and what that means for their support of the president in the Carolina Journal.
---
Paul Glader '99, '00 opines in Newsweek about censorship faced by student journalists at Liberty University, calling for Christian universities to champion the educational value of journalism programs and a robust student press. Glader is a journalism professor at The King's College in New York City and teaches business and ethics reporting for the TFAS European Journalism Institute (EJI) in Prague.
---
Karen Travers '99, a White House correspondent for ABC News, was selected as a Fall Semester Fellow for the Georgetown Institute of Politics and Public Service.
---
Zahra Hankir '06 is the editor of the newly released anthology, "Our Women on the Ground: Essays by Arab Women Reporting from the Arab World." The book is currently the Amazon #1 best-seller in Middle Eastern Politics, and was favorably reviewed in The New York Times. You can watch Hankir discuss the book's stories and why Arab women reporting in the Middle East are both unusually limited and uniquely empowered on PBS News Hour.
---
Kurt Couchman '02, PPF '07, writes in the National Interest that substantial spending reforms and a more careful approach toward China are necessary for America to maintain its global influence and preserve prosperity at home.
---
Lori Windham '00, a senior counsel at Becket, opines in The Detroit News about the need to put children first in "unnecessary political disputes" impacting faith-based adoption agencies.
---
Craft distilleries in Illinois now face less unnecessary regulation thanks to legislation presented by TFAS alumnus and state senator, Dan McConchie '93, '95. The new law signed by Gov. J.B. Pritzker last week allows distilleries to skip distributors and sell a limited amount of products directly to bars, restaurants and retailers. Read more in the Daily Herald.
---
Kylee Zempel '17 is now an assistant editor at The Federalist.
---
On the heels of a conditional and highly-regulated Sprint and T-Mobile merger, Court Culver '18 opines on FEE.org about the historic harms of of American anti-trust laws, despite their good intentions.
---