TFAS welcomed 26 bright young leaders to the 2020 Summer Law Fellowship during a virtual orientation and alumni panel discussion on May 22. The Fellows hail from top law schools across the country, including Florida State University, George Washington University, Villanova University and Georgetown University.
TFAS Law Program Director Colin Parks said the members of this year's remarkable cohort have successful futures ahead of them.
"Although we are not able to meet in person yet, we're excited to see what the summer holds for our 2020 Summer Law Fellowship," Parks said. "This year's class represents an impressive, diverse group of future attorneys who are sure to make significant contributions to the advancement of originalism and limited government principles."
Since 2007, TFAS has offered legal studies programming with a constitutionally-focused curriculum to law students. Revamped in 2019 to offer a fully-funded immersive academic and professional experience, the highly competitive two-month Fellowship offers coursework, professional development seminars and networking events, as well as a law and public policy lecture series with leading constitutional scholars, judges and practicing attorneys. The program is funded in part by the generous support of the Sarah Scaife Foundation.
This summer's featured speakers include Randy Barnett of Georgetown Law, Ilya Shapiro of the Cato Institute, Bradley Smith of the Institute for Free Speech and Judge Amul Thapur of the U.S. Court of Appeals, 6th Circuit. In addition to these seminars and lectures, Fellows will take a course on the topic of "Constitutional Interpretation: The Debate Over Originalism" taught by Antonin Scalia Law Professor Jeremy Rabkin.
Due to the coronavirus pandemic and closures by our university partners, the first half of this summer's program will be hosted virtually, with the status of the remaining seminars and lectures to be determined.
The heart of the program is in the connections that you form with your fellows." – Glynis Gilio, Law '19
During the virtual opening ceremony, the 2020 TFAS Summer Law Fellows heard from TFAS faculty and staff, along with alumni from last year's cohort and a 2008 alumnus who shared firsthand testimony on the impact of the program.
TFAS Chairman Randal Teague, a retired partner at Vorys, Sater, Seymour and Pease, LLP, gave opening remarks, providing perspective on the real-world applications the program offers through its legal internships and interactive seminars.
"It is truly a connect-the-dots experience that you are going to have this summer," Teague explained. "It is taking some of the subject matters that you've already dealt with and connecting them in ways in which you would not inside of the law school. We connect them in the realities of life."
Following the welcome ceremony and orientation, Fellows also heard words of advice from recent fellowship alumni. Michigan State University College of Law student and Pacific Legal Foundation 2020 Summer Law Clerk, Glynis Gilio, Law '19, encouraged participants to form lasting connections with classmates over the course of the summer.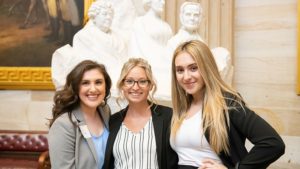 "In 10 years when your resume goes across the desk and one of your former Fellows sees your name, they're not going to remember which law school you went to or what great answer you gave in class, they're going to remember how you made them feel," Gilio said. "Trying to form those important personal relationships is a very important skill because the class, the roundtables and the internships are the meat of the program, but the heart of the program is in the connections that you form with your fellows."
The 2020 Fellows then took the opportunity to introduce themselves to their classmates and share their excitement for this summer's program during a virtual welcome reception.
---
2020 LAW FELLOWS
Jorge Alfonso
Law School: Florida State University College of Law
Hometown: West Palm Beach, Florida
Jorge just finished his second year of law school. He interned last summer at Roberts, Reynolds, Bedard, & Tuzzio PLLC, a medium-sized insurance defense firm in his hometown of West Palm Beach, Florida. Jorge participated in the Veterans Legal Clinic in the fall of 2019, which assists indigent veterans in the Tallahassee area with a wide variety of legal issues. Jorge externed for the Florida Supreme Court this past spring, specifically working under former Supreme Court Justice Jorge Labarga. Jorge is interning this summer for the Navy JAG Corps and hopes to join the JAG Corps after graduation and passing the Florida Bar in the summer of 2021.
---
Mark Atwood
Law School: George Mason University Antonin Scalia Law School
Hometown: Moravia, New York
Mark just completed his first year of law school. His legal interests include criminal law, education, employment and contracts. His previous experiences include interning for the late Honorable Louise M. Slaughter who served the 25th Congressional District of New York as a TFAS student in the fall of 2018. During his congressional internship, Mark learned of his passion to work in government and learn more about the legal field and its interaction with public policy. Another combination of areas he enjoys is the study of law and economics. After interning at the Law and Economics Center at the Antonin Scalia Law School, Mark found he wanted to attend an institution that pushed this forward as an important discipline. In January 2018, Mark helped in the relief effort following the hurricanes in Puerto Rico. This sparked an interest in national crises and environmental law. Over the summer, Mark plans to accept an invitation to attend a course in Dublin, Ireland taught by a Supreme Court Justice. Outside of law, Mark enjoys watching noirs, attending musicals, listening to pop music and exploring the nation's capital.
---
Sumaya Bamakhrama
Law School: University of San Francisco School of Law
Hometown: Jeddah, Saudi Arabia
Sumaya just completed her second year of law school. She received her bachelor's degree in political science from California State Polytechnic University, Pomona in December 2017. She most recently served as a delegate and advocate with the International Human Rights Clinic at the United Nations. Sumaya has participated in an externship with a firm in Paris and has experience working as a litigant's assistant for the Neighborhood Legal Services of Los Angeles County.
---
Alex Beezley
Law School: Saint Louis University School of Law
Hometown: St. Louis, Missouri
Alex has just completed his 1L year. He was a 1L representative for the International Law Student Association at his law school last year and will be an officer next year. He is also a member of the Intellectual Property Law Association. Alex majored in German in college and studied abroad at Heidelberg University in Germany. Alex also interned with the Better Business Bureau as a mediator for one summer in college.
---
Daniel Brown
Law School: George Washington University Law School
Hometown: Huntington Beach, California
Daniel has just finished his first year of law school at George Washington University, where he has enjoyed the fast-paced and challenging academic environment in addition to the amazing speaker and debate events put on by the school's Federalist Society chapter. A native of Huntington Beach, California, Daniel is still adjusting to life in Washington, D.C., although he has thoroughly enjoyed the history and culture of the nation's capital. Previously, Daniel worked in business administration at an industry leading investment management firm, as a clerk at two law firms and most recently as a camp counselor over the past summer. Daniel has traveled overseas to Europe twice, and has been lucky enough to camp in and explore the western United States.
---
Luke Bunting
Law School: Georgetown University Law Center
Hometown: Washington, D.C.
Luke just completed his 1L year at Georgetown University Law Center. Prior to law school, Luke attended Butler University, where he graduated summa cum laude, Phi Beta Kappa and with highest honors in political science. Upon graduating from Butler, Luke received a Fulbright grant through the U.S. State Department to teach English in Yeongcheon, South Korea. For the past five years, Luke has worked in communications on Capitol Hill and continues to serve as the communications director for Congressman Kenny Marchant of Texas during law school.
---
Noelle Daniel
Law School: University of Kansas School of Law
Hometown: Lawrence, Kansas
Noelle has just completed her 1L year of law school. Throughout this first year, she has enjoyed being treasurer of the Federalist Society and working as a student attorney for the KU Court of Parking Appeals. While in undergrad, Noelle interned for Iowa state House Representative Bobby Kaufmann where she conducted legislative research and analysis, as well as evaluated and wrote reports on proposed bills. Noelle also spent a semester abroad in Merida, Mexico where she experienced a vibrant new culture, sharpened her Spanish fluency and became quite good at salsa dancing! In her free time, Noelle enjoys playing the piano, singing at community events and playing ultimate frisbee.
---
Alex Domingue
Law School: Louisiana State University Paul M. Herbert Law School
Hometown: Crowley, Louisiana
Prior to beginning his law school career at LSU Paul M. Hebert Law Center, Alex had the opportunity to engage in both state and local politics through his internships with The Picard Group, and under Mayor-President Joel Robideaux of Lafayette, Louisiana. Throughout his undergraduate and law school careers Alex has been engaged in a variety of campus organizations and events, including the Sigma Chi Fraternity, the Public Interest Law Society, the Barrister's Bowl and Street Law. Alex has just completed his 1L year and is looking forward to his experience with TFAS this upcoming summer.
---
Rachel Gruebbel
Law School: American University Washington College of Law
Hometown: Washington, D.C.
Rachel just completed her 1L year. She previously attended The King's College in New York City, earning a bachelor of arts in philosophy. While at King's, Rachel was the NYC college coordinator for International Justice Mission and was able to successfully lobby an anti-slavery bill through Congress. Through this, she gained a passion to see justice served for the people that need it the most. Rachel has an interest in international criminal prosecution, focusing in a post-war setting. While at law school, she has been able to pursue this interest by working with American's War Crimes Research Office. In her spare time, she enjoys cooking, running and olympic weightlifting.
---
Francis Kailey
Law School: University of Colorado Law School
Hometown: Frederick, Colorado
Francis just finished his 2L year. After law school, he hopes to work as a litigator, start his own firm and eventually become a professor of evidence, procedure, or constitutional law. His internship this summer is in the civil trial section of the tax division within the Department of Justice. Previously, he worked for Judge Lipinsky of the Colorado Court of Appeals and at a general litigation practice in mountainous northwest Colorado. Prior to attending law school, he obtained a bachelor of arts in classics, focusing on ancient Greek language and history, and a bachelor of arts in economics at Union College in Schenectady, New York. He played rugby for Union College, a sport which he now coaches for young Coloradoans. Francis is also a professional musician for the Archdiocese of Denver. He plays violin, trumpet and piano. He also enjoys outdoor sports, especially fishing, skiing and shooting sports.
---
Tabitha Kempf
Law School: The Catholic University of America Columbus School of Law
Hometown: Arlington, Virginia
Tabitha is a proud child of the West, having spent most of her life in Colorado. She recalls first expressing her interest in policy in the third grade when she told her parents she would either be "a cowgirl or a politician." Her first job post-undergrad was as a research assistant focusing on global justice issues, where she acquired an interest in political theory and economics. She later served as legislative aide to Representative Paul Lundeen with the Colorado State Legislature – two transformative years that grew her interest in law and policy and deepened her commitment to the principles of limited government and individual liberty. She is also deeply committed to public service and has volunteered hundreds of hours over the past decade with World Relief, Court Appointed Special Advocates (CASA) and Colorado Legal Services, among others. Tabitha is currently pursuing her J.D. in Law & Public Policy degree at CUA, and is a Federalist Society chapter officer. When she doesn't have a book in her hand, she and her husband enjoy exploring D.C. as aspiring foodies or getting outdoors.
---
Andrew Klee
Law School: Villanova University School of Law
Hometown: Phoenix, Arizona
Andrew just completed his 1L year at Villanova University School of Law. He grew up in Phoenix, Arizona before moving to western New York to attend the University of Rochester, where he played on the baseball team as a freshman. During his summers in college, Andrew interned for the late Senator John McCain, the Goldwater Institute, and a member of the European Parliament. Andrew's time working in the European Parliament entailed living in Belgium for three months, along with a stretch in Strasbourg, France for the plenary session. During each school year, he served as a research assistant for a professor in the political science department, focusing on political polarization at the state party level. In his spare time, Andrew is an avid Arizona sports fan and enjoys spending time with his family.
---
Jessica Kloss
Law School: University of Arkansas School of Law
Hometown: Fayetteville, Arkansas
Jesse is an articles editor for the Arkansas Law Review, president of the Law Republicans, and a representative in the student congress. Last semester, Jesse was a legal extern for Walmart's Global Regulatory Monitoring and Enforcement Team, assisting with the creation and implementation of a global program for monitoring regulatory change and pending legislation. Last summer, she was a legal extern for the Consumer Financial Protection Bureau's Office of Innovation, assisting OI staff with drafting a regulatory sandbox and a revised no action letter policy to improve consumer access and competition. Jesse interned for Arkansas Lieutenant Governor Tim Griffin and U.S. Senator Tom Cotton in college. She has a degree in journalism and political science from the University of Arkansas, and a minor in music. She studied abroad in South Africa in college, documenting the oral histories of communities affected by apartheid. Jesse was a member of the U of A Wind Symphony, the Hogwild Band and the Razorback Marching Band. She still enjoys playing the tenor saxophone in her free time.
---
Thomas MacEgan

Law School: Pepperdine Caruso School of Law
Hometown: Centennial, Colorado
Thomas just completed his first year of law school. As an undergraduate at California Polytechnic University of San Luis Obispo, Thomas had the opportunity to volunteer in the university's New Student & Transitions Programs department. His role in the department was to be one of many facilitators, individuals responsible for developing educational curriculum for incoming students and training hundreds of current students to be orientation leaders during the fall of the following year. He was awarded "Facilitator of the Year" at the end of his time with the program in 2014. Upon graduating from Caly Poly with a Bachelor of Arts, Thomas returned home to Colorado to spend time with his family before making the decision to go back to school for his J.D. He worked as a server full-time to pay back his student loans as well as working concurrently for a home healthcare provider as an administrative assistant. While his internship and legal experience is limited, during the 2019-2020 school year at Pepperdine Caruso School of Law, Thomas was the 1L section representative for the Federalist Society and will continue his involvement with the chapter into the new school year.
---
Heather McGuire

Law School: American University Washington College of Law
Hometown: Palmetto, Florida
Living in Washington, D.C. has always been Heather's dream. After earning an undergraduate degree from the University of Florida, Heather moved to her dream city to pursue her dream career as a legal advocate. Following her first year in law school, Heather clerked for the Federal Election Commission (FEC) Office of General Counsel Enforcement Division. Taking the political law expertise she honed at the FEC, Heather went on to clerk for the Republican National Committee's Office of General Counsel. At school, Heather is a leader within the American University Business Law Review, American University Legislation & Policy Brief, Federalist Society student chapter and the Asian Pacific American Law Students Association. Heather's other interests include watching collegiate sports, bench-warming intramural sport teams, photography and beekeeping.
---
Charles McKee

Law School: George Washington University School of Law
Hometown: Morganton, North Carolina
Charles "Mac" McKee just finished his 1L year at George Washington University Law School. Mac earned a degree in business administration from Washington and Lee University in 2015. Upon graduating, he moved to France and taught English to French high school students in a town outside of Paris. After returning home, Mac worked in a Cincinnati field office for Senator Rob Portman's 2016 reelection campaign. Mac then moved to Washington, D.C. in 2017, and after a brief internship in the House of Representatives, he worked as a researcher for the National Republican Congressional Committee. When he is not studying the law, Mac is trying to find a way to practice his woodworking hobby in a D.C. apartment.
---
Nicholas McLaughlin

Law School: Pepperdine Caruso School of Law
Hometown: Calabasas, California
Nick just completed his 1L year. He earned his undergraduate degree at Gutenberg College in Eugene, Oregon. As a "Great Books" school, Gutenberg College's curriculum tracks the history of Western philosophical and theological thought through the discussion of influential primary texts. Nick earned his master's in teaching and taught in the Eugene public school system. He likes to spend his free time listening to audiobooks, playing chess and discussing philosophy.
---
Demetrios Mikelis

Law School: Villanova University School of Law
Hometown: Old Tappan, New Jersey
James just completed his 1L year at Villanova University Charles Widger School of Law. Before beginning his 1L year, he completed an internship at LoPiano, Kenny & Stinson, a personal injury law firm in New Jersey. He has a bachelor of arts in history from Villanova University, where he double majored in history and philosophy.
---
Kevin Moore

Law School: University of Denver Sturm College of Law
Hometown: Denver, Colorado
Kevin was born and raised in Denver, Colorado. He attended Regis Jesuit High School, where he was a three-time all-American springboard diver and student body president. Ranking among the top diving recruits in the nation, Kevin was awarded an athletic scholarship to attend the University of Virginia, from which he graduated in 2013 with a bachelor of arts in government. After graduation, Kevin returned to Colorado and briefly worked on a gubernatorial campaign before accepting a position in the public and government affairs department at ExxonMobil and its subsidiary natural gas company XTO Energy. For five years at Exxon, Kevin was part of a three-person team tasked with handling all aspects of state-level corporate advocacy, legislative monitoring and influence, trade association participation, community outreach and stakeholder engagement, local charitable giving, campaign contributions, and issue response in nine mountain-west states. With encouragement from family, friends and coworkers, Kevin chose to apply to law school in 2018. He received a dean's scholarship offer from the University of Denver and happily enrolled as part of the class of 2021. He is now a rising third-year law student with an affinity for constitutional law and litigation. Kevin has two older brothers, one of whom works as an aerospace engineer at United Launch Alliance, the other as a resident anesthesiologist at Duke Hospital. In his free time, Kevin enjoys lifting weights, playing basketball and fiddling around with puzzles and locks.
---
An-Ngoc Nguyen

Law School: Georgetown University Law Center
Hometown: Albuquerque, New Mexico
An is a rising 2L interested in intellectual property. Prior to law school, she earned her undergraduate degrees in biology and chemistry. She then completed two years of medical school before making the change to law. At Georgetown, she is a Technology Law and Policy Scholar, student fellow of the Center for the Constitution and active member of the Federalist Society. In her spare time, she enjoys watching thrillers, reading fantasy novels and playing video games.
---
Nathaniel Obinwa III

Law School: University of Richmond School of Law
Hometown: Richmond, Virginia
Nathaniel just completed his 1L year. He played football at Colgate University and Graceland University before graduating from the University of Central Florida with a bachelor's degree in history. Before finally deciding to pursue a history degree, he majored in psychology, cultural anthropology, zoology and biology. During his undergraduate years at UCF, he worked part time as a security guard for many of Orlando's most popular clubs and bars. He frequently travels to Dubai to visit his mother and younger sister, and has also been to Nigeria, Canada, Brazil, Ethiopia, Uganda, Rwanda, Kenya and South Africa.
---
Shane Rider
Law School: University of Oklahoma College of Law
Hometown: Dedham, Massachusetts 
Shane is a dedicated conservative activist that has just completed his 2L year at the University of Oklahoma College of Law. An observant Catholic, he has participated in many faith outreach programs, including local mission trips in his hometown of Boston as well as in Nicaragua. With a keen interest in foreign policy, he is an advocate for the Monroe Doctrine of nonintervention in foreign affairs while maintaining a strong military force to use when necessary. An excellent and active student, Shane has made the Dean's List at the College of Law twice, and studied abroad at Worcester College at Oxford University during the summer of 2019. He is on the board of the local Federalist Society chapter at the University of Oklahoma and is also a member of the honor's fraternity Phi Alpha Delta as well as the Christian Legal Society.
---
Hunter Schutt
Law School: Seattle University School of Law
Hometown: Seattle, Washington
Hunter Schutt was raised in northwest Montana. Growing up in Montana entailed lots of time outside in the mountains, exploring and recreating. Accordingly, Hunter is a passionate skier and biker. But, Montana is not the only place Hunter is familiar with. He has traveled throughout South America and Europe. In 2015-16 Hunter spent two semesters at Kadir Has University in Istanbul, Turkey. Not only is Hunter a passionate world traveler and outdoorsman, but he is also a passionate musician. He spends countless hours writing music and occasionally performs, when confidence provides.
---
Natalie Seales
Law School: George Mason University Antonin Scalia Law School
Hometown: Derwood, Maryland
Natalie Seales completed her undergraduate degree in journalism at the University of Mississippi then chose to pursue a career in first amendment law in Washington, D.C. Since then, she has interned at the Federal Communications Commission and News Media Alliance, a free press non-profit representing over two thousand news organizations. Natalie just completed her 2L year and is an active member of the Federalist Society, Federal Communications Bar Association and Scalia Law's Mentorship Program. She is also a member of Moot Court Board and a Notes Editor on the Civil Rights Law Journal. In her free time, Natalie enjoys spin class, cooking, anything related to Abraham Lincoln and long drives.
---
Duncan Taylor
Law School: University of New Hampshire School of Law
Hometown: Concord, New Hampshire
Duncan just completed his 1L year at the University of New Hampshire's Franklin Pierce School of Law, located in beautiful Concord, New Hampshire. He attended the University of Texas at San Antonio for his undergraduate studies, and the University of New Hampshire, where he rowed on the crew team in the bow seat. In 2014, Duncan was a participant in the Koch Summer Fellowship Program, where he had the opportunity to work with Americans For Prosperity Foundation – New Hampshire. That summer, he wrote and published two white papers, one on right to work legislation, and one on New Hampshire's business taxes. The business tax paper played a part in New Hampshire lowering its business taxes incrementally, and helping to spur an economic renaissance in the state. In 2016, Duncan was selected for the year long Liberty@Work program through the Charles Koch Institute, where he worked as a policy analyst at the South Carolina Policy Council. He was elected the representative for his Liberty@Work class. Duncan has also worked for Harris Media, the Republican National Committee and Bulletin Intelligence. He is an Air Force veteran. Duncan is a member of the UNH Law Federalist Society and will be a board member for the Merrimack County Teen Court program in the fall. In the free time he manages to find, Duncan enjoys rowing, running, rugby, gymnastics, historical European martial arts with a focus on the German longsword and music. He and some fellow law students have a band called "The Saucy Intruders," in reference to the classic line from Pierson v. Post.
---
Gregory Weeks
Law School: University of Idaho College of Law
Hometown: Moscow, Idaho
Originally from Northern New Jersey, Greg has spent the past seven years crisscrossing the United States tracking down interesting opportunities and working on meaningful projects, from hydraulic fracturing in Texas to passage right to work in Kentucky. Everyone always told him he should become an attorney, but Greg always resisted assuming the legal market is saturated, and that such suggestions were really just nice compliments. After a time, he relented and just finished his first year of law school, with the ultimate goal of establishing a career in transactional work in the Pacific Northwest.