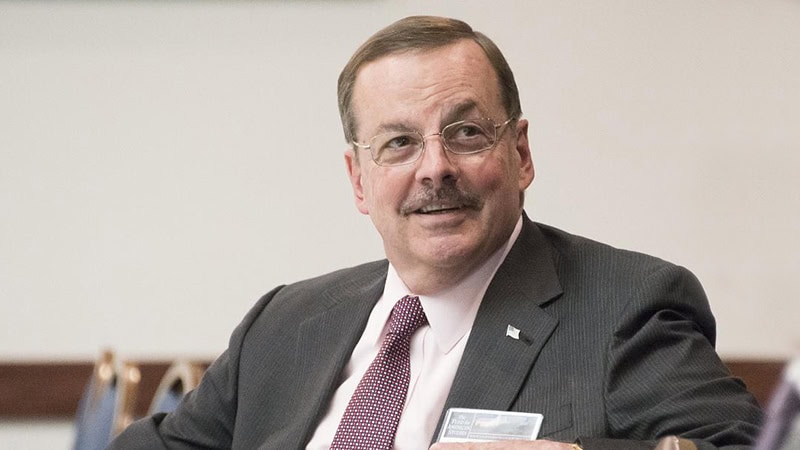 It is with deep sorrow that the TFAS family mourns the loss of our dear friend and former colleague John Farley. His unexpected death came after a very recent cancer diagnosis and complications from emergency surgery.
The loss of John is heart-wrenching to all who knew him. When TFAS Trustee and philanthropist Thomas Phillips and the late journalist Robert Novak created what is now the Robert Novak Journalism Fellowship program, it fell to John Farley to take their ideas and put them into action. Unsurprisingly, the program flourished under John's leadership for more than 20 years.
"John embodied what TFAS believes its students and young journalists should be: Truthful, thoughtful and thorough," said TFAS Chairman Randal Teague. "He was full of faith and values, patient and kind in every measure. He will be missed in many ways by many persons."
Each year, John sought the most talented young journalists throughout the country who were laboring in obscurity and provided fellowships that enabled them to pursue writing projects that would bring them to the public's attention. In so doing, John helped develop several generations of journalists who are today among the most prominent in the profession.
Having served as a member of the TFAS Board of Trustees, John was very familiar with our work in journalism. For many years he chaired our Journalism Board of Visitors, helping to shape the direction of TFAS journalism programs and constantly providing fresh ideas and support. When Tom Phillips decided to sunset the Phillips Foundation in 2013, John came to TFAS to discuss the possibility of moving the Novak Program under our umbrella. We eagerly agreed under one condition – that John too convey along with the program, "like a chandelier," as John liked to say.
Lucky for us, John agreed to the condition and joined the TFAS team as our vice president of the Robert Novak Fellowship Program and director of corporate relations. He and his trusted assistant Vanessa Henderson didn't miss a beat as they continued to run the Novak Fellowship program for several years, until John's retirement in 2016.
Prior to joining TFAS, John served as an executive at Eagle Publishing and its predecessor, Phillips International, for more than three decades. Prior to that, he was chief of staff for Florida Congressman Charles Bennett and a reporter for the Jacksonville Journal newspaper. He earned a master's degree in journalism from Northwestern University and a bachelor's degree in international affairs from Georgetown University. In 2006, he was appointed by the governor of Maryland to serve on the Governor's Commission on Service and Volunteerism.
When it came time to retire, more than 100 alumni, colleagues, supporters and friends gathered at TFAS Headquarters in Washington, D.C. to wish John well and celebrate his immense impact. John's retirement was cut much too short by his death on March 30, but in that time he was able to witness his two favorite sports teams, the Washington Nationals and Capitals, win national championship titles. John also became a docent at the Basilica of the National Shrine of the Immaculate Conception in Washington, D.C., even taking on the task of a full-time position to help during the absence of a staff member there.
@Nationals Longtime #Nats season ticket holder John Farley, retired director of the @TFASorg @NovakFellows program, passed away this morning. Other than his family, nothing made John happier than the magic of this past October. I will miss him dearly. RIP, John! #fightfinished pic.twitter.com/cwC8VPBtnP

— Tom Sileo (@TSileo) March 30, 2020
His absence will be felt by many, not the least of which are the more than 100 Novak Fellowship alumni whom John guided through the program as a mentor and friend. Shortly after news of John's death broke, Novak Alumni began sharing their memories of John as an exceptionally kind and selfless man.
"John was one of those few people who are naturally interested in helping bring out the best in others," said TFAS President Roger Ream '76. "He loved to mentor young people and took a personal interest in helping others become their better selves. In the 24 hours since word of his death began to spread, dozens of Novak Fellows have written to me about the life-changing influence John had on their lives. It is truly remarkable and is just one important way in which he will live on in this world."
In recognition of John's impact, we have renamed our annual Alumni Fellowship in John's honor. The John Farley Alumni Fund Fellowship will be announced this year through the support of Novak Fellowship alumni. Applications are now open for the Fellowship at TFAS.org/Novak. Alumni wishing to support the Fellowship can make gifts here: Support John Farley Alumni Fellowship.
John is survived by his wife Jean, son Daniel and daughter Lauren. May you rest in peace, John.