As society is constantly changing with developments in technology and divisive shifts in our nation's political climate, one trait remains consistently important: character. This is the message that Ambassador Paul A. Russo shared at the Capital Semester on Leadership + The American Presidency closing ceremony.
Now working in the private sector, Mr. Russo served under President Ronald Reagan as the United States Ambassador to Barbados and the Eastern Caribbean. He also worked as special assistant to President Reagan for political affairs and later served as deputy undersecretary of labor. As the keynote speaker for this semester's closing ceremony, Ambassador Russo shared the necessary qualities one must possess to be an effective leader.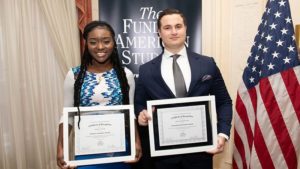 As a fitting capstone to their semester studying the American presidency through the experiential learning program co-sponsored by TFAS and the Ronald Reagan Institute, Russo shared memories and anecdotes about working for President Reagan. He recalled how the late president exhibited traits such as reliability, confidence and patriotism, but stated that the most important quality Reagan possessed in times of political strife was his character.
"It was [a time] when you could agree with people and disagree with people," he explained. "Many people disagreed with President Reagan violently on policy, but they didn't attack his character… I don't know how we get back to that, but my bet is on your generation."
Ambassador Russo challenged the students by expressing that his hopes for the future are rooted in a confidence that the next generation of future leaders will inspire the nation to work together toward civility and unity, regardless of political differences.
We can't sustain this hatred for one another because you disagree with somebody. The future of this country has to be in working together." – The Honorable Paul A. Russo, United States Ambassador (Ret.)
During the ceremony, TFAS students also heard from their fellow classmate, Rediet Degefa '19, who shared how the events and lectures held over the course of the semester reinforced the character exhibited by leaders throughout American history, and how her classmates exhibited these important qualities as well.
"Throughout this semester, we visited many historic sites and attended guest lectures from the most influential people in Washington, D.C., all of which sought to communicate a unique lesson about what it means to be a leader," Degefa said.
She expressed her appreciation for her TFAS classmates who she says illustrated the importance of working together civilly, despite cultural or political differences.
"Thank you to my classmates for a memorable semester and for teaching me the value of finding common ground among people with core ideological and cultural differences for productive teamwork," Degefa said.
The closing ceremony featured remarks from TFAS program manager at George Mason University, Mark Pfundstein; program coordinator at the Ronald Reagan Institute, Kimberly Flickinger; and professor Richard Benedetto. Students also heard from TFAS staff members Michelle Le '93, '95; executive vice president Steve Slattery; Capital Semester program coordinator Chase Forrester '16 and director of U.S. Programs Joseph Starrs.
TFAS thanks the Ronald Reagan Institute, George Mason University and local D.C. alumni for their contributions to the TFAS Capital Semester on Leadership + the American Presidency program held in Washington, D.C., this fall. To learn more about the program, visit TFAS.org/USprograms.