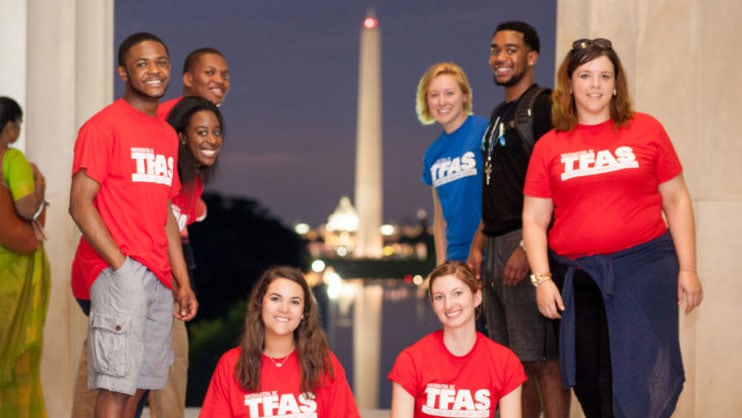 TFAS D.C. Summer Programs bring together top students from across the country and around the world for an eight-week academic internship experience in the nation's capital. The intensive and comprehensive program combines academic courses for credit, internships, housing, site briefings, guest lectures, a professional development series and mentorship program. D.C. Summer Programs applicants can choose from a variety of program tracks based on their areas of interest and experience.
The economics course has been the single best class that I have ever taken. It has developed my confidence in critical thinking more than any experience in my life. It's everything that I've wanted in an education – an open marketplace for my assumptions and ideas to be constantly challenged." – Jack Willett '17
ACADEMICS
Bringing the ideas of liberty to life
Inside TFAS classrooms, students examine free-market economics and public policy in upper-level courses taught by our award-winning faculty and accredited through TFAS academic partner George Mason University. Each program track requires a three-credit course in economics and offers students up to six additional credit hours through optional elective courses in "American Foreign Policy," "American Political Thought" and "Ethics and Leadership." Students can also elect to participate in an interactive internship seminar that focuses on career-building activities.
---
INTERNSHIPS
Gaining Real-World Experience
TFAS D.C. Summer Programs students are placed in professional internships where they work for approximately 30 hours per week. Through their internships, students test themselves in their chosen professional fields, gain work experience, develop skills and make professional contacts. For decades, TFAS has forged relationships with leading organizations in public policy, journalism, government relations, business and philanthropy, ensuring students have access to the most challenging and fulfilling internships in Washington, D.C.
---
CONNECTIONS
Beyond the Classroom
TFAS D.C. Summer Programs give rising young leaders exclusive access to people and places that can broaden professional horizons, make vital career connections and share eye-opening insights and lessons. Students explore D.C.'s powerful institutions at exclusive site briefings and gain firsthand knowledge from key professionals at networking events and guest lectures. In 2023, students heard from more than 170 guest speakers including top economists, journalists, policy makers, scholars and industry experts.
---
QUESTIONS? Contact Us!
Please email us at admissions@TFAS.org, or fill out the form below and a member of our team will reach out to you.