What a year! 2020 was a year like no other, but TFAS continued to teach freedom to young leaders in the U.S. and around the globe thanks to the generous support of volunteers, alumni, supporters, and friends. Check out the infographic for a look at 2020 "by the numbers," then read a brief recap of highlights from the year below.
2020 Program Highlights
Thanks to TFAS supporters, volunteers, alumni, and friends, TFAS reached thousands of young people with the ideas of limited government, free-market economics and honorable leadership in 2020.
---
HIGH SCHOOL PROGRAMS
ECONOMICS FOR LEADERS
Through our high school programming division, the Foundation for Teaching Economics (FTE), 620 students attended 22 online "Economics For Leaders" programs this summer. More than 93 percent of high school students indicated that these week-long programs improved their understanding of how free markets function.
TEACHER PROGRAMS
In response to COVID-19, FTE increased 2020 teacher enrollment by 91% over 2019. This year 1105 high school teachers participated in workshops and seminars designed to equip educators with the tools to teach the benefits of economic freedom.
---
ACADEMIC INTERNSHIP PROGRAMS
SPRING
Though their time in D.C. was cut short due to the initial COVID-19 outbreak and travel regulations, TFAS Spring Capital Semester students made the most of their semester by exploring the U.S. capital city, getting to know their classmates from different parts of the world and learning about free market economics from TFAS professors.
SUMMER
TFAS remained committed to providing transformational academic internship programs online through the TFAS Virtual Summer program. Nearly 200 young leaders participated in our innovative virtual D.C. academic internship program and gained invaluable leadership skills and professional experiences along with a world-class economic education.
FALL
Bright young leaders hailing from top colleges and universities across the U.S. and the Netherlands, took part in our inaugural hybrid virtual and in-person Fall Capital Semester Program. TFAS took the necessary steps to ensure that our 2020 fall programs would continue to instill the principles of liberty and leadership in young leaders from around the world – both virtually and in person – despite challenges posed by the COVID-19 outbreak.
---
INTERNATIONAL PROGRAMS
TFAS Santiago
Before news of the global pandemic hit, Chilean streets rumbled with social unrest and demonstrations in January. These events fueled, rather than hindered, a positive cross-cultural study of the principles of free societies during the 2020 TFAS Santiago program. the 2020 TFAS Santiago program. More than 50 young leaders representing 20 countries and diverse backgrounds, political ideologies and world views convened for two weeks in Santiago, Chile.
Global Political Economy Seminar
This summer, 70 young leaders from 28 countries around the globe participated in our first-ever fully virtual TFAS International program, the Global Political Economy Seminar. Students originally selected to attend our programs in Singapore and Prague were invited to engage in an eight-week online program that examined the relationship between governments and markets and connected peer leaders from Sri Lanka to Armenia to Argentina and beyond.
European Journalism Institute
Despite closures by partner universities abroad and travel restrictions imposed by the ongoing coronavirus pandemic, the 2020 European Journalism Institute welcomed 22 participants from 13 countries in July for a three day virtual seminar on "Journalism, Liberty and COVID-19."
---
PROFESSIONAL FELLOWSHIPS
Joseph Rago Memorial Fellowship for Excellence in Journalism
TFAS was pleased to award Alessandra Bocchi with the third annual Joseph Rago Memorial Fellowship for Excellence in Journalism. Since August, Bocchi has worked with the Opinion section of The Wall Street Journal through a nine-month internship.
John Farley Memorial Alumni Fund Fellowship
Following the passing of our long-time friend and former colleague, John Farley, TFAS introduced Charles McElwee as the inaugural recipient of the John Farley Memorial Alumni Fund Fellowship, which was named in Farley's honor earlier this year.
Robert Novak Journalism Fellowship
In November, TFAS presented six early-career journalists with the opportunity to pursue year-long writing projects on topics surrounding the principles of a free society through both partial and fully-funded grants, as the 2020-21 Robert Novak Journalism Fellows.
TFAS presented Bocchi, McElwee, and the Novak Fellows with their Fellowships at the Journalism Awards Dinner. The hybrid in-person and virtual program also honored Maria Bartiromo, Fox News anchor of Mornings with Maria, as the 2020 Thomas L. Phillips Career Achievement Award recipient for her lifelong dedication to outstanding journalism.
TFAS Summer Law Fellowship
Hailing from top law schools across the country, including Florida State University, George Washington University, Villanova University, and Georgetown University, TFAS welcomed 26 bright young leaders to the 2020 Summer Law Fellowship. Though the program could not be hosted in person this summer, Fellows kept a rigorous schedule of remote legal internships, online academic coursework, virtual networking, career development sessions, guest lectures, and more.
TFAS Public Policy Fellowship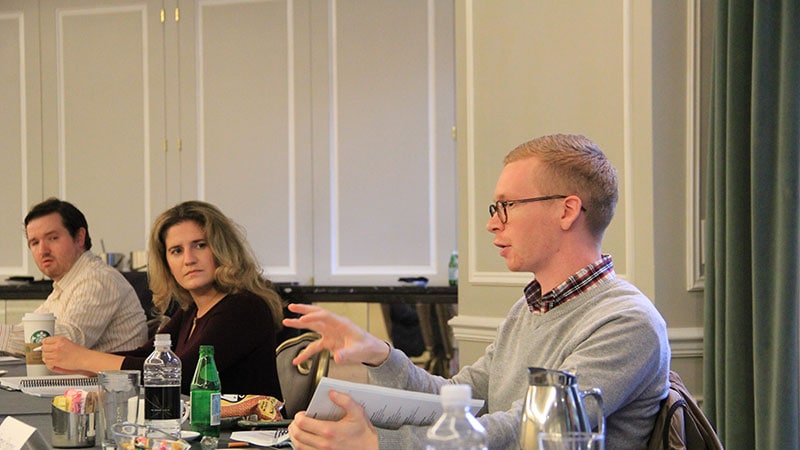 In September, TFAS welcomed a new cohort of young professionals from the nation's leading think tanks, government offices and policy organizations in Washington, D.C., to the 2020-21 TFAS Public Policy Fellowship. The 17 Fellows are participating in a rigorous year-long program for young leaders with a shared commitment to improving public policy.
---
Venezuela Campus Speaker Series
TFAS's "Venezuela: My Story … Your Future" project has exposed the truth about socialism to more than 2,000 college students worldwide. Asylum seekers Andrés Guilarte and Jorge Galicia have addressed more than 75 student groups in 12 countries in both Spanish and English.
In April 2020, as the COVID-19 shutdown crippled the world economy, Guilarte and Galicia were featured in a two-minute video comparing the everyday reality of life in socialist Venezuela with the conditions created by the shutdown–empty shelves and long lines at the supermarket, incentives to report on your neighbors, massive unemployment, and economic uncertainty. The video quickly went viral, with more than 775,000 views across all social media platforms.
---
With free eBooks, webinars, and soon-to-come online courses, TFAS launched a new online resource library that will help readers become even more courageous champions of liberty and free enterprise, just as TFAS students do through our programs. Today, 25,971 people have accessed resources on topics of liberty, democracy and free-market economics.
---
The Fund for American Studies thanks its thousands of supporters, alumni and friends for their continued dedication and support, and we look forward to continuing our mission of teaching freedom and equipping honorable leaders to become champions of liberty in 2021!