Through our Foundation for Teaching Economics (FTE) programs, TFAS is reaching future leaders at the high school level. FTE programs introduce young people to an economic way of thinking about national and international issues and promote excellence in economic education by helping teachers of economics become more effective educators.
I was surprised at how practical and applicable economics is to everyday life. The teachers were so wonderful; they made economics fun." – Emily Davies, FTE Student

PROGRAMS FOR TEACHERS
FTE  Teacher Programs conduct over 55,000 hours of individual instruction each year for high school teachers who, in turn, impact more than 300,000 students annually.
Programs are taught by mentor teachers and university professors who run hands-on games and simulations with real students so teachers can observe students' interactions. The teachers see up close why FTE-designed lessons are so effective and leave with a better knowledge of economics, new classroom strategies and a renewed enthusiasm for teaching. Teacher programs range from week-long residential programs to one- and four-day seminars as well as online classes.
As a new teacher of economics, this program was the perfect jump-start into the basics of the topic, its real-world applications and, most importantly, its relevancy to student's lives, by teaching them how to think critically about the world around them." – Johnny Kent, FTE Teacher 
All lessons and activities are correlated with both the Common Core state standards and all 50 state standards in economics. The courses are accredited through the University of Colorado, Colorado Springs and graduate level credit is available.
PROGRAMS FOR HIGH SCHOOL STUDENTS
FTE sponsors two different programs for high school students each summer: Economics for Leaders (EFL) and Economic History for Leaders (EHFL).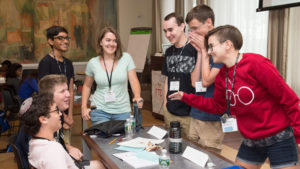 Through these week-long residential programs, FTE gives promising high school students the skills to be more effective leaders and teaches them how to employ economic analysis when considering difficult public policy choices. Students learn through engaging games and simulations that explain economic concepts in exciting and relatable ways.
Programs are led by economics professors and leadership instructors selected for their expertise and teaching effectiveness. Morning discussions, activities and interactive sessions introduce participants to the "economic way of thinking." Afternoon sessions build an understanding of leadership, and participants practice leadership skills in a fun-filled series of tasks and dilemmas.
Programs are hosted at university campuses across the United States including Yale, Cornell and Duke. Through a partnership with the University of Colorado, Colorado Springs, students can earn two semester hours of undergraduate credit for the EFL and EHFL programs. More than 1,000 high school students participated in FTE student programs in 2018.