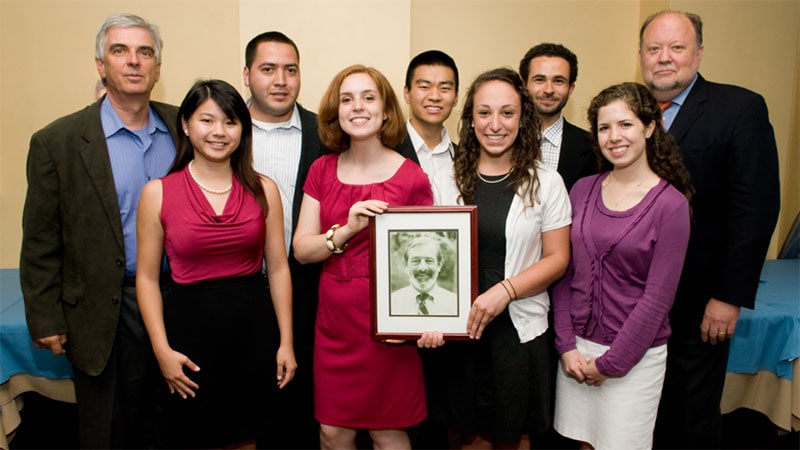 The Eben Tisdale Fellowship offers outstanding opportunities for students to learn about high-tech public policy issues with hands-on experience in Washington, D.C.
The Fellowship provides a full scholarship to attend the Business + Government Relations program. Through the Business + Government Relations D.C. Summer Program, Tisdale Fellows are placed with a high-tech company, firm or trade association, take two classes worth six credits from George Mason University, and live in furnished apartments on George Washington University's downtown campus. Fellows also attend weekly issues seminar lunches hosted by Tisdale sponsors, as well as briefings at institutions such as the U.S. Capitol, Department of State, World Bank and Federal Reserve.
The thing that adds value the most is the fact that we are listening directly to people who have been working in the field, and they can tell us how to make policy in real life, how to interact with other peers, with the government, how to face situations and conflicts." – Natalia Maya '10, Massachusetts Institute of Technology, Philips Electronics Intern
History
Eben Tisdale was one of the industry's most dedicated and effective advocates. After losing his battle with cancer in 1998, Eben's friends, family and colleagues created the Tisdale Fellowship Scholarship  for students in the TFAS Business + Government Relations program as a lasting tribute to his commitment to the importance of public policy in the high-tech arena. Throughout his career, Eben made a special effort to bring bright young people to Washington. Through a long-term commitment as a mentor and friend, he helped many achieve outstanding success in government and in the private sector. The fellowship is a living monument to Eben's legacy of nurturing young people's interest in high technology and public policy.
ABOUT EBEN SMITH TISDALE
Eben was the director of Hewlett-Packard's government affairs office in Washington, D.C., and served as co-chair of the Computer Coalition for Responsible Exports. He was previously the vice president of the Scientific Apparatus Makers Association and a founding member of the Semiconductor Industry Association and the Electronics Association of California.
A California state lobbyist, he came to Washington in the 1970s to work as a staff associate at the U.S. Chamber of Commerce. He later worked as vice president of the Western Electronics Manufacturers Association, the predecessor to the American Electronics Association.
He was a native of Ithaca, New York, and a graduate of Stanford University.
How Eben Tisdale approached policy advocacy seems, to me, to be the way that we should approach life – with high levels of integrity, valuation of people, and respect for the importance of the issues that define our work. I especially think this is true with respect to the legislative process, and lobbyists' interactions with it." – Joel Mehler '08, Stanford University, Business Software Alliance Intern